June 4, 2022
|
9:00 am
–
11:30 am
PDT

As a celebration for FESTA DELLA REPUBBLICA, we are holding a live, in-person Saturday morning walking tour around Little Italy with expert guide Anthony Davi.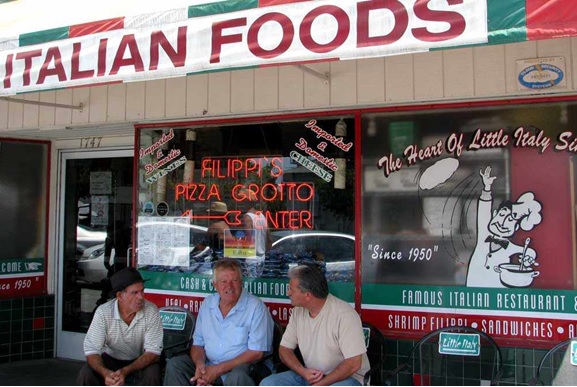 Experience in person and on foot the history of Little Italy, a neighborhood with an Italian presence since 1871!
A thrilling adventure through time from the late 19th century and the coming of Italians to San Diego to today's modern-day renaissance. Expert tour guide Anthony M. Davi will guide us on foot through hidden architectural landmarks, archival artifacts, and lively origin stories.
The in-person walk will start with Italian coffee and "cartoccio," a Sicilian breakfast pastry (see picture below) made to order at the no-host Zucchero Cafe.
Six thousand Italian families once called this home. The salty ocean air, ready-made port, cactus plants and olive trees reminded many Italians of their sunny fishing villages back home. They paintied their tiny wooden bungalow homes the colors favorited by their ancestors. They built their own boats, fished with hand-sewn nets, cultivated fruit and vegetable gardens, made fresh pasta by hand and focaccia in igloo-shaped bakcyard overns.
Tour highlights include:
The Piazza Basilone fountain and war memorial, plus Piazza della Famiglia, the new center of Little Italy, and Piazza Pescatore, dedicated to Little Italy's historic fishermen
The restoration project (frescoes, stained glass, oil paintings, statues) in Our Lady of the Rosary 1925 Church
Historic homes from the 19th century including INSIDE a fully restored Italian home built in the 1880s; an old world Italian grocery store built in the 1920s; and the establishment of a Prohibition era gang, intimidating local businesses with threats of violence
Artifacts and photos from the days of Genovese and Sicilian fishermen Come discover hidden landmarks that chart their history through time, a recreation of a world that is underneath the hip and stylish neighborhood Little Italy has become!
Event coordinator: Beatrice
beatrice.basso@icc-sd.org